ISPM-15 Wooden Packing Material Fumigation
In order to control exotic pests the International Plant Protection Convention which is a representation of 140 countries around the world have formulated and approved two types of treatments for timber packing which will effectively control the pests that are present in the wooden packing material. one is Methyl bromide fumigation with MB marking. Another is Heat Treatment with HT marking.
Methyl Bromide Treatment of Wooden Packing Material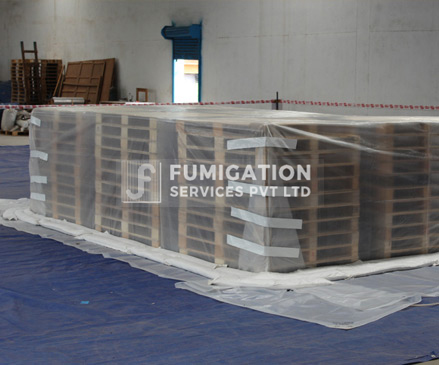 Fumigation treatment should be carried out for packing materials such as wood crates, skids and other packing materials. Plant material such as straw, rice hulls and similar plant material used as packing material can carry exotic insect pest and diseases. The wooden crates have to be treated prior to shipment by carrying out fumigation with Methyl Bromide. The maximum thickness of the packing wood must not exceed 200 mm.
Fumigation of wooden packing material should be carried out with methyl bromide at the dosage of 48 grams per meter cube. In this process the wooden packing crates are placed inside the fumigation covers which is kept on a smooth flooring and it is covered with gas tight sheets to make it an air tight enclosure. The gas monitoring lines for measuring gas concentration during the exposure period is placed at different positions for efficient gas monitoring. The fumigation covers are sealed with sand snakes and an air tight enclosure is made. The total cubic area of the enclosure is measured and the required dosage of methyl bromide is administered. Gas monitoring is carried out during the exposure period. After the exposure period of 24 hours the fumigation covers are removed and the empty wooden crates are aerated then ISPM 15 marking is legibly marked on the wooden packing material. The ideal wood for packing of export cargo would be Kiln dried pine wood.
Heat Treatment For Wooden Packing Material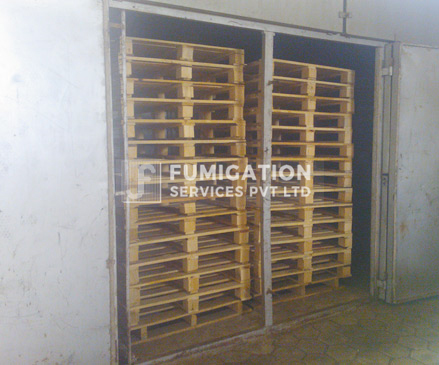 Heat treatment is one of the approved phytosanitary treatment as per ISPM 15 Standards for control of pest in timber packing. Various types of cargoes are packed in wooden packing material for transportation to various countries around the world. The timber packing which is used becomes carriers of spreading exotic pests from one country to another country through cargo if not treated.
Heat treatment is a process whereby the wooden packing materials are kept inside a chamber and hot air is passed into the chamber and a temperature of 56 degrees celsius is maintained throughout the treatment period. Fumigation services have approved Heat treatment facility in Chennai and Cochin which will cater to the requirements of exporters who prefer heat treatment for their wooden packing materials. Most of the European countries prefer heat treatment for wooden packing material that are imported into their country. Heat treatment is a environmentally friendly procedure where no toxic gases are used for carrying out the treatments. It is carried out for all types of wooden packing material like pallets, woods, skids, boxes and crates.
Antifungal Treatment for Wood Packing Materials
Fungus formation happens due to excessive moisture content in the packing wood material. If the moisture content of the wood is more than 18% fungus development will happen during the time of transit. When the containers are opened at the port of discharge fungus formations on the wooden packing material possess a great risk. Also due to heavy fungus formation the consignee will not be able to clear the cargo from the container due to unhygienic fungus formations as it affects the health of the unloading workers at the port of discharge, due to strong odour.
Ordinary Methyl bromide fumigation does not control fungus. It only controls live insects and pest. Effective antifungal treatment for wooden packing materials is carried out with effective fungicides prior to shipment or else the wood should be kiln dried.
Naturally, rubber wood has got inert properties of absorbing moisture quickly which often results in formation of fungus. If other types of wood like pine wood, silver oak is used the fungus problems can be avoided to a certain extent.
The ideal wood for packing is kiln dried pine wood (Soft wood). In case hardwood is required then Mango wood and other types of jungle wood which should be kiln dried and treated prior to use. Dried wood should be sourced carefully for making the wooden crates.